Dirección Prohibida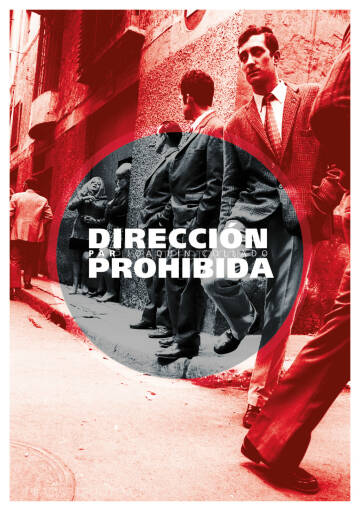 Photographs: Joaquin Collado
Text: Armand Llàcer
Publisher: Aman Iman Publishing
30 pages
Pictures: 18
Year: 2015
Price: 20 €
Comments: Softcover, illustrated wrappers on a vellum-like dust jacket. 140 x 210 mm. First edition, 2015. Edition of 475 + 25 special edition. Text in French and in Spanish. Offset printing.
1972. Bright Sunday morning. Half past eleven. The Barrio Chino in the heart of Valencia. Pedestrians fill up the streets. This is a dark, busy place, where prostitutes and pimps, shopkeepers, buskers and artisans coexist. A place where all kinds of prying onlookers and snoopers try to feast their eyes and satisfy their sexual needs amongst the hustle and bustle.
It is Father's Day, a day to celebrate. The pavements are crowded with men leering at the voluptuous bodies exposed under the arches. Joaquin Collado came here to give a witness account of this lecherous and greedy atmosphere with his camera. He knows it: at that time of day, the four old, filthy streets that make up the rotten heart of the city will be full of people watching out for the season of the flesh. He wanders about discretely, pretending to be a tourist, his Nikon FTN hidden so that no one notices he came to steal snippets of their secret lives. He walks, and coughs to hide his camera's tenuous detonations, and he tries not to miss a single detail of this human spectacle.
Collado, 42 years old, is an amateur photographer who travelled to the forbidden zone with very clear intentions. He is unaware that in the past, other photographers had already done the same thing in Paris (Brassaï) or Barcelona (Joan Colom). It doesn't matter. His outlook is original. In 1972, Collado experiences the city as an authentic flâneur [stroller], an "asphalt trampler" who explores tales to tell with his camera.
Extract of the text from Armand Llàcer
more books by Joaquin Collado
more books tagged »prostitution« | >> see all
Books from the Virtual Bookshelf josefchladek.com