Amazônia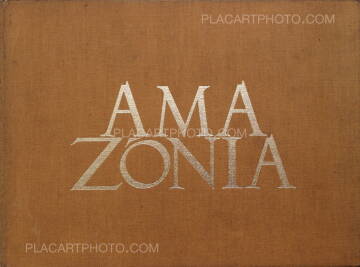 Claudia Andujar / George Love

Amazônia
Photographs: Claudia Andujar
Publisher: Edition Praxis
Comments: Hardcover with slipcase, 266 mm × 191 mm, slipcase slightly dirty ,some stains on the last pages, overall very good condition. More pictures on request.
Claudia Andujar was born in Neuchâtel, Switzerland, in 1931.
In 1956, she left the United States and moved to Brazil. A photography project documenting the way of life of the Carajá Indians in Central Brazil led Ms. Andujar to a career in photojournalism. Her work has been published in Life, Look, Fortune, Aperture, Realidde, Setenta, Claudia, and other magazines.
In the early 1970s she met a group of Yanomami Indians in the Amazon Basin of Northern Brazil. Intrigued by the way of life of these people, who had had little contact with the outside world, she gave up her career as a photojournalist to embark on an in-depth photographic essay on the Yanomami. The two-year Guggenheim Fellowship she received (under the name of Claudia Love) helped to support this project.
During the Fellowship, Ms. Andujar was witness to one of the most significant cultural dislocations to occur in Yanomami history, when the government began construction of a transcontinental highway in Northern Brazil. She observed bulldozers razing Yanomami villages to pave roads for the highway. along with cultural impact brought about by the construction, Ms. Andujar witnessed a devastating measles epidemic, which swept through the southern territory of the Yanomami in 1974. She saw hundreds of people die, and in some cases, observed entire villages of people succumb to the illness. It was because of this suffering that she temporarily suspended her work in photography and helped establish health outposts enabling Yanomami people to receive inoculations and other medical services.


During the 1980s, Ms. Andujar witnessed another devastating incursion into Yanomami territory, when thousands of illegal, small-scale gold miners made their way into the Amazon to make their fortunes. By the end of the 1980s, there were 40,000 gold miners in the Brazilian Amazon while the entire Yanomami population numbered just 11,000. During this period the Yanomami faced even more epidemics, most notably malaria. Twenty percent of the Yanomami died in the 1980s as a consequence of the gold-mining intrusion.
In addition to the diseases brought by the miners, Ms. Andujar helped document the environmental impact of gold mining in Yanomami lands. Mercury, used by miners to extract gold from ore, spilled into the rivers, poisoning the streams and killing off fish and plant life the indigenous people and other forest inhabitants depended on for food.