Es kommt der neue fotograf !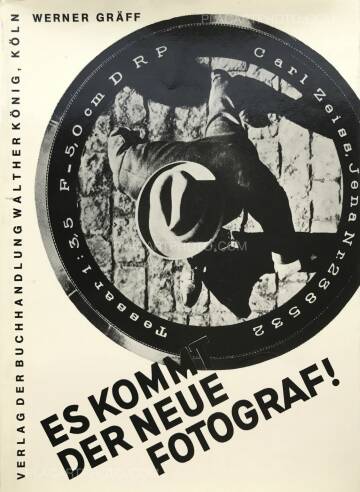 Werner Gräff

Es kommt der neue fotograf !
Photographs: Werner Gräff
Text: Werner Gräff
Publisher: Walther König
126 pages
Year: 1978
Comments: Softcover under dust jacket, 260 x 190 mm. Reprint, 1978. Black & white photographs. Text in german. One tear at the bottom of back dust jacket otherwise in very good condition.
A reprint of Werner Gräff's Es kommt der neue Fotograph, which was published (along with Roh and Tschichold's Foto-Auge) around the famous Stuttgart "Film und Foto" exhibition of 1929, and generally considered the greatest photography exhibition ever held: "not since the great international exhibitions of the 1850s and 1860s had there been such a broad display of the photographic arts, intended not just to show photography but to examine its place in society.

"Importantly, the exhibition attracted leading modernist photographers not just from Europe but from the United States (Edward Weston, for instance) and Russia (El Lissitsky and Rodchenko). It included amateur work, commercial and utilitarian photography, and provided an almost indispensible survey of the New Vision in photography." Both Es kommt der neue Fotograph and Foto-Auge "adopt similar picture-essay formats to run through the various genres and stylistic features on New Vision photography. Werner Gräff's volume, however, has as much of a practical as a theoretical slant. It can be considered as a 'how-to' compendium of the new photography, and is divided into sections, each several pages long, showing either formal strategies like tilting the frame or repeating similar elements, close-ups and so on, or genres such as photograms, montage, advertising and magazine photography" (The Photobook).